Do you require Nose Reshaping Rhinoplasty?
Yes, if you want better looking nose
or have any such Nose Shape problems
| | | | | | | |
| --- | --- | --- | --- | --- | --- | --- |
| | | | | | | |
| Depressed Nose | Deviated Nose | Broad Tip Nose | Hump Nose | Boxer Tip Nose | Broad Nose | Post Injury Nose |
Rhinoplasty or Nose job is highly specialized procedure to reshape the nose to a better level.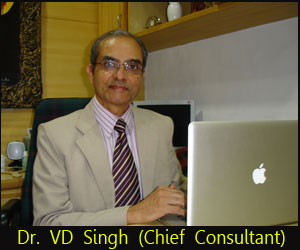 Dr VD Singh, chief consultant at the VM Plastic Surgery Centre, Chandigarh, India, has more than 30+ years of surgical experience. Nose Reshaping or Rhinoplasty is the most commonly done procedure at this centre. He has been invited as faculty to give talks on Rhinoplasty & has presented his work at International conferences.
Enquiry Form
With an extensive experience of more than 30 years, Dr. V.D. Singh has already operated more than 15000 cases.
Rhinoplasty or Nose job is a cosmetic surgical procedure performed to meet goals for aesthetic or reconstructive purposes. Dr. V.D. Singh uses his expert surgical skills and extensive experience to re-shape the nose to be more proportional to your face. Before the procedure, Dr. V.D. Singh works diligently to develop a feasible aesthetic goal and a surgical treatment plan to achieve the same.

Dr. V.D. Singh's philosophy is to listen and evaluate concern of every patient taking into consideration the entire person as a whole. During your rhinoplasty consultation with Dr. V.D. Singh, he will seek to understand your expectations from the procedure. After gaining an understanding to your expectations, complete internal and external examinations are carried out to establish your desires to align them with planned nose reshaping procedure. Dr. V.D. Singh is not only one of the most popular surgeons for nose job in Chandigarh, Punjab but his achievements in the field of cosmetic surgery with proven track record of success has made him one of the most sought after surgeons for Rhinoplasty or Nose Job in India.

V.M. Plastic Surgery Center aims to address the needs of patients in the safest and meticulous manner, keeping their needs on the top priority. At the clinic, we offer individualized care with special emphasis on understanding patient's expectations from the procedure. Dr. V.D. Singh personally addresses all the queries related to the procedure. The goal is to tailor the expertise to your expectations, that helps to craft a natural and refreshed look for best results. We offer an optimum combination of affordable cost and quality treatment.